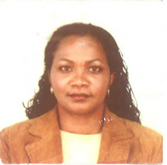 Local teacher - Dr. Lucia John
Dr. Lucia John has been a certified teacher of Transcendental Meditation for 32 years. She has a Ph.D. in Vedic Science from Maharishi European Research University. Dr. John is Director of the Maharishi Enlightenment Center and Maharishi Vedic Health Spa in Dominica.
Pour ceux qui pratiquent déjà la Méditation Transcendantale
RENCONTRES POUR MEDITANTS: tenues régulièrement au centre – veuillez nous contacter pour le programme complet.
VERIFICATIONS PERSONELLES: pour rafraichir votre pratique et recevoir plus de conseils concernant votre technique de MT. Ces sessions personnalisées de 30 minutes sont disponibles sur rendez-vous.
COURS DE RAFRAICHISSEMENT : Si vous voulez rafraichir votre pratique et compréhension de la Méditation Transcendantale, pourquoi ne pas assister à nouveau à un cycle d'instruction. Contactez-nous par téléphone ou courriel pour détails.